Hockey Finder Etsy Store
Did you know Hockey Finder has an Etsy store? Pop on over to find Hockey Finder league jerseys, hats, shirts, window clings and other fun items.

---
Looking for a new set up our generic Hockey Finder League jersey?
They are available year round in the Hockey Finder Etsy shop.
---
Looking for one of those nicer personalized jerseys and/or other custome apparel?
Hockey Finder has four order windows per year (once per season) when players are able to buy apparel including custom sublimated jerseys. You can find out more information about them here.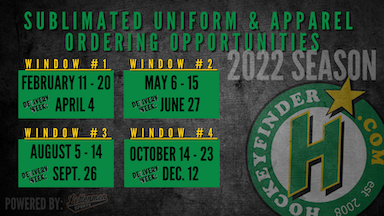 Miss the window? There is now a grace period for 48 hours following the close of any ordering window, however, a late fee of $15.00 per order will be applied to each order. Orders will not be accepted after the 48 hour grace period as it will impact delivery dates.